Media Monitoring
CVP-USAID:
(Cycle-4) Media Monitoring on Local Bodies Election Coverage by Electronic and Print Media 2013-2014 which includes;
• Establishing a full-fledged electronic media reporting room
• Local bodies election coverage monitoring and analysis reports
• Report launching at four provincial headquarters
FES:
Monitoring of general elections' coverage by electronic media 2013
FES:
Strengthening Democratic Media in Pakistan Since 2008
• Promoting media literacy
• Promoting plural and democratic media
• Publishing quarterly 'Media Review' in Urdu language
Download Reports Below
Monitoring of election coverage by electronic media (1-6 May)
Projects
Media Mirror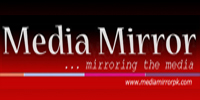 Fortnightly E-magazine, Media Mirror (launched by Society for Alternative Media and Research) concentrates on Media and its interlinked issues.
Media Review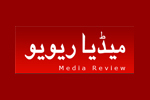 The organization is publishing quarterly Media Review in Urdu language for the past three years. In 2011, the project's target audience.